The Autonomous Logistics Hub of the Future
Taking the first step into a fully autonomous logistics chain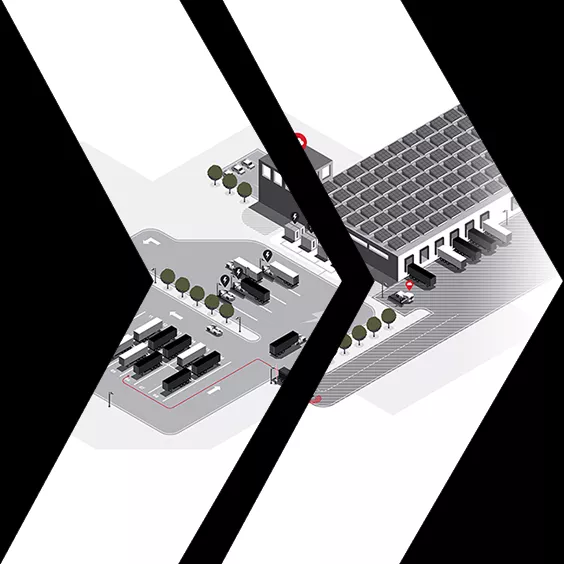 Eike Gernant | Benjamin Vieth | Benedikt Roßmann
Jan. 2023 | White Paper | Englisch
The Autonomous Logistics Hub of the Future
Taking the first step into a fully autonomous logistics chain
The logistics industry is currently facing challenges from multiple sides: on the one hand, the demand for logistics is steadily increasing due to e-commerce and globalization, but on the other hand, there is a lack of skilled workers in the form of truck drivers who can handle this demand. In Europe alone, over 380,000 truck driver job postings were unfilled in 2021. This significant shortage is exacerbated by increasing labor expenses, which aggravate the cost pressure already caused by rising fuel prices. Moreover, the climate crisis calls for sustainable processes that can be carried out in a carbon-neutral and resource-conserving manner.
Two technological leaps can help to address those challenges. The first—the electrification of trucks, driven by lower Total Cost of Ownership (TCO) and sustainability demands—is already taking place. The subsequent leap—autonomous trucking—is expected to take off in the second half of this decade and is key to solving the massive driver shortage, increasing safety, and enabling further operational savings.
This paper examines the autonomous logistics hub of the future, which is a critical link in enabling sustainable, autonomous trucking. This paper has been developed in close cooperation with Ansorge Logistik, an innovative German logistics service provider that performs warehouse and transport operations for major Fast Moving Consumer Goods (FMCG) and industry customers by operating five logistics hubs in Germany and Italy. To present a comprehensive analysis and validation of the concepts through different angles within this paper, interviews with different technology companies and suppliers, OEMs, and hub operators have been conducted.
Management Summary
While public on-road autonomous transport happens in a more complex environment, the autonomous hub is the ideal first use case that helps to explore autonomous technologies within predefined, enclosed environments. Fewer legal requirements apply and the safety risk is much more manageable compared to other use cases
The key technology enablers for an autonomous logistics hub are already well on their way to commercialization but need to be integrated into an overall concept
Autonomous operations in logistics hubs can enable cost savings of up to 70 percent, amortizing upfront investments
Kontakt
Beratung, die bewegt
Sie möchten Kontakt mit unseren Expertinnen und Experten aufnehmen? Dann schreiben Sie uns gerne.