Powering the Future
Off-highway vehicles electrify the scene, leaving fossil fuels in the dust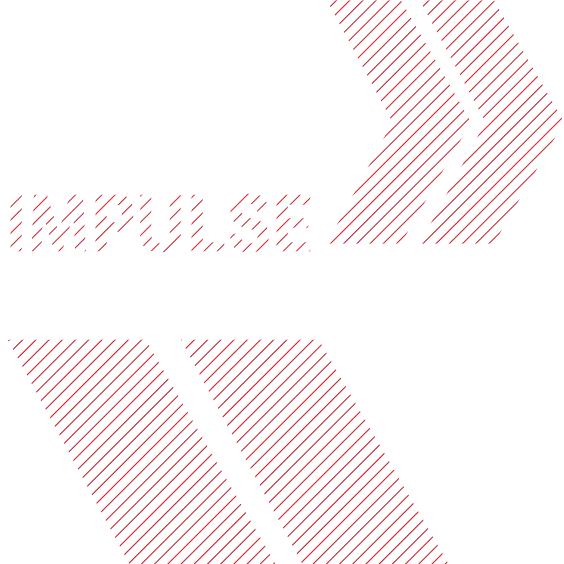 Andreas Baier | Stephan Ulbrich | Finn Ingenbleek
Okt. 2023 | Impuls | Englisch | 10 Min.
Impuls anhören: Powering the Future

What drives the transformation from internal combustion engines to electric drive in the off-highway machinery market?

How quickly will the switch from fossil fuels to renewable energy progress?

What is the impact of the transition on OEMs, suppliers, and users?
Today, manufacturers of products with combustion engines are massively affected by the disruptive shift away from fossil fuels to renewable energy. This trend is also reshaping the market for off-highway machines - vehicles that maneuver on steep or uneven terrain and are used primarily in construction or agriculture, e. g. tractors, harvesters, mobile cranes and trucks for mining.
Since the market for these vehicles is constantly growing, OEMs must increasingly deal with sustainability aspects and related pain points. These include increased pressure from regulations (e.g., driving bans in urban centers for diesel vehicles or restrictions on operating hours due to noise pollution in rural areas), increased energy costs as well as an increasing public interest to reduce CO2 emissions. Electrification presents a solution, as we expect that electric engines can be applied to nearly all medium sized off-highway vehicles by 2040.
The following article focuses on the opportunities and challenges of the electrification of off-highway vehicles and provides recommendations for off-highway machinery OEMs. It focuses on the three major aspects which must be considered when making off-highway vehicles more sustainable, namely powertrains, power storage, and the question of electricity infrastructure. Based on this, it outlines core implications for off-highway machinery OEMs1.
Electrification – the next big step for the Off-highway industry
As the world moves towards a greener and more sustainable future, the off-highway vehicle industry finds itself at a pivotal moment. The shift towards electrification is not merely a trend; it is an imperative for off-highway vehicle OEMs, one which presents substantial potential to the market. By 2030, a 150% increase in global market sales of electrified off-highway equipment is expected.2 Furthermore, we assume that medium off-highway vehicles with up to a100 kW peak e. g. smaller excavator for use in urban construction sites will establish themselves on the market from 2030 onwards and medium-heavy vehicles with up to a180 kW peak like a mid-size tractor from 2040.3
When OEMs consider how to make their vehicles more sustainable through electrification, it is crucial to consider the most important requirements for off-highway vehicles in general. Based on our clients' experience in the agricultural and construction machinery business, low total cost of ownership, to include maintenance and energy costs, takes precedence. One advantage of electrified off-highway vehicles is a lower proportion of wearing parts in the vehicle. The cost of energy could be an advantage especially if electricity is produced on location. The second requirement to operate these vehicles productively is reliability with regards to the maximum possible operating time and autonomy. Finally, the suitable selection of powertrains, sufficient and available power storage, and a broad investment in infrastructure to generate and supply electricity is key to having an economic and suitable solution for the specific application.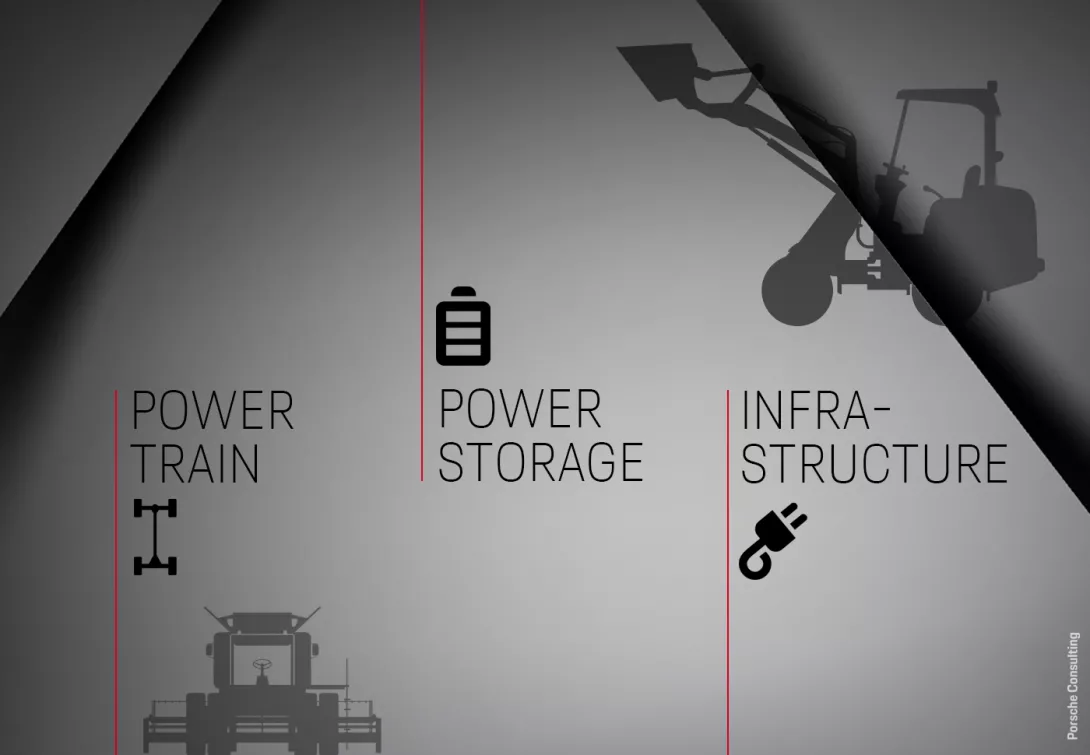 Power train – simple transfer from automotive is not possible
The automotive industry offers a wide range of power trains ranging from hybrids with self-charging batteries, plug-in hybrids, to fully electric vehicles with batteries, and fuel cell technologies. However, a simple transfer of these technologies to off-highway vehicles is not possible without adjustments, due to the different requirements of off-highway machines. For example, the use outside of highways generally implies a different vehicle behavior (e. g. acceleration, the required stable speed, missing recuperation possibilities). It should also be noted that due to the application area of off-highway machines, the required energy density (i.e., the ratio of available energy to battery weight) is a critical factor that must be considered before transferring existing technologies.
Despite the challenges, the application of these technologies in off-highway vehicles is inevitable and will offer a new set of benefits in vehicle performance. Digital displacement pumps can reduce the energy requirements of conventional hydraulic systems, which represent a major load for the powertrain. Furthermore, electrification also affects ancillaries, which today are mostly mechanical and driven by the internal combustion engine. For pumps and hydraulic systems, electric drives are advantageous due to the high torque at low speeds. This consumes less energy and generates less waste heat, while also enabling greater accuracy and effectiveness in performing tasks.
Power storage – it is all about the battery
The second aspect that must be considered is keeping the total cost of ownership as low as possible and extending the maximum possible operating time, which concerns the storage of power and batteries. Battery size requirements vary by industry, for example batteries for off-highway vehicles are 500kWh or more, while traditional passenger vehicles require 50-100kWh. Battery technology continues to evolve, and it is expected that the performance of batteries will increase by 30% by 20304 and while the price per kWh-battery-capacity will decrease by 50% over the same period.5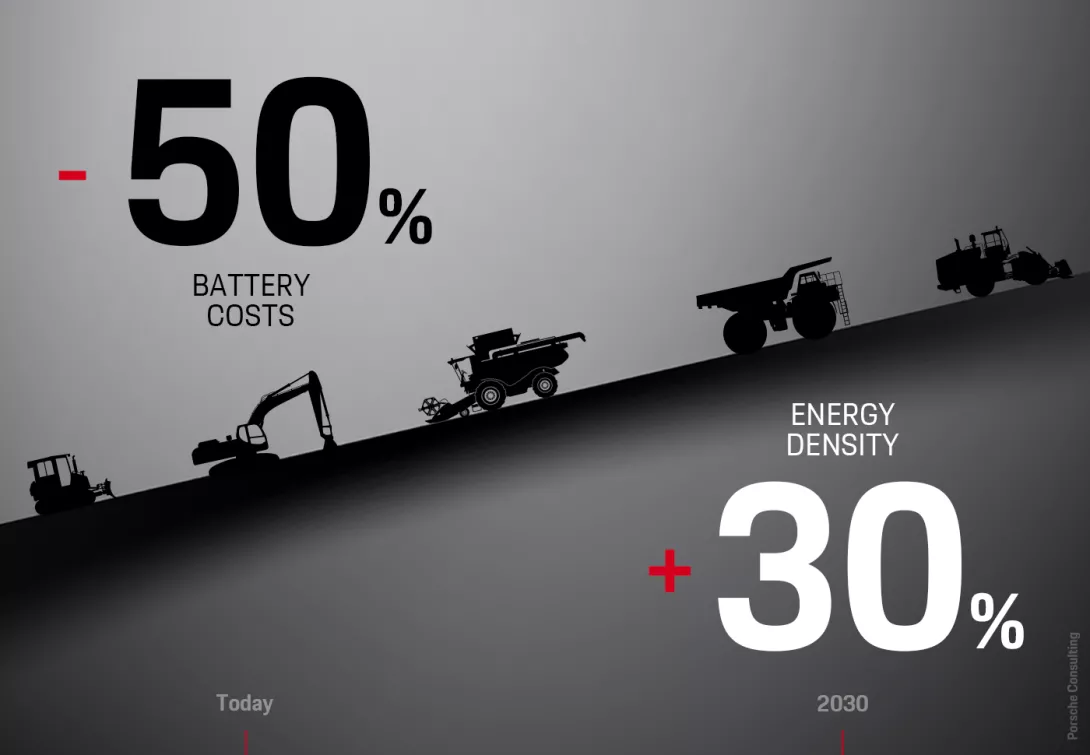 These developments strengthen the positive expectations on the electrification of off-highway vehicles. Advancements in solid state battery technology are a source of great promise, due to their benefits relative to lithium-ion batteries. Solid state batteries generally have a higher energy density than lithium-ion batteries, allowing for more energy to be stored in a smaller space and thus increasing power availability. Furthermore, solid-state batteries do not consist of liquid electrolytes, which significantly reduces the risk of leakage, fire hazards and thermal instability. These characteristics can be considered a major advantage in the context of safety, especially in demanding environments where off highway machines are used.
In the context of batteries, sustainability must always be considered. Today, a large proportion of batteries are recycled at the end of their life cycle. With current technologies, it is still difficult to cover the upfront costs of recycling with the revenue from the sale of raw materials. With the increasing scarcity of raw materials and the associated costs, for OEMs, stepping into the recycling market might be a worthwhile approach to participate in a potentially profitable business and stay competitive.6
Power infrastructure – how to charge off-highway vehicles fast and smooth
Power generation, storage and supply are the key elements of the power infrastructure. Due to customer requirements for maximum vehicle availability and minimum charging time, fast charging is becoming a trend and is introduced as the most common and feasible technology for charging electric off-highway vehicles.
In theory there are other ways to provide vehicles with new energy, but there are currently no proven industrialized examples of battery replacement for dump trucks or tractors. First concepts of mobile energy storage systems, which enables locally emission-free operation and charging of construction machinery already exist on the market. Examples of this concept include modular, trailer mounted mobile storage systems featuring state-of-the-art batteries; technologies which can enable a smarter and more resilient grid infrastructure. This is particularly important for the electrification of off-highway machines used in newly developed areas with non-existent or rudimentary infrastructure and machines with high operating time, where unnecessary travel times to charging stations needs to be avoided. Local charging infrastructure can be used for off-highway machines that are used for short periods of time, have adequate time capacity for charging (e.g., tractors), and potentially have access to existing local charging infrastructure (e.g., on farms). However, the development of this infrastructure involves several challenges. In addition to the high initial investment costs, there are legal considerations to navigate, as well as challenge sourcing necessary materials and technologies at an affordable price. In agriculture, the agrivoltaic approach offers a good opportunity for farmers to be their own energy producers. Agrivoltaic describes the process for simultaneous use of land for agricultural crop production and PV power production. This dual use of land significantly greatly increases the efficiency of land use (up to 160%).7
Electrification is the next big step for the off-highway industry
The transformation from internal combustion engines to electric drives in the off-highway machinery market already has started. We expect continuous growth supported by more efficient drivelines, better capacity-weight ratio of batteries and an improving infrastructure to make electricity available at convenient price.
The electrification generates big opportunities to reduce product cost due to lower cost of the driveline and batteries, as soon solutions are available for more applications and customers. Lower maintenance cost and energy cost will also create an advantage regarding total cost of ownership compared with the traditional internal combustion engine. A transition to electrification will also benefit the environment. Reducing CO2 is increasingly required by regulation and drives the step away from oil and gas. Performance, stability, and precision of electrical components combined with solutions e. g. for precision farming will drive the transition and convince customers to step into a new age of off-highway machines.
As electrification is the next big step for the off-highway industry, OEMs and suppliers must position themselves today, so that they can meet customer demands in the future and keep pace with the technology on the market. It is crucial to anchor the transformation to electrification as a core component of every corporate strategy to adapt to the new market conditions at an early stage and, in the best case, shape them. OEMs should be aware of adjusting the respective product strategy by developing products that meet future customer needs and create a real competitive advantage.
Kontakt
Beratung, die bewegt
Sie möchten Kontakt mit unseren Expertinnen und Experten aufnehmen? Dann schreiben Sie uns gerne.