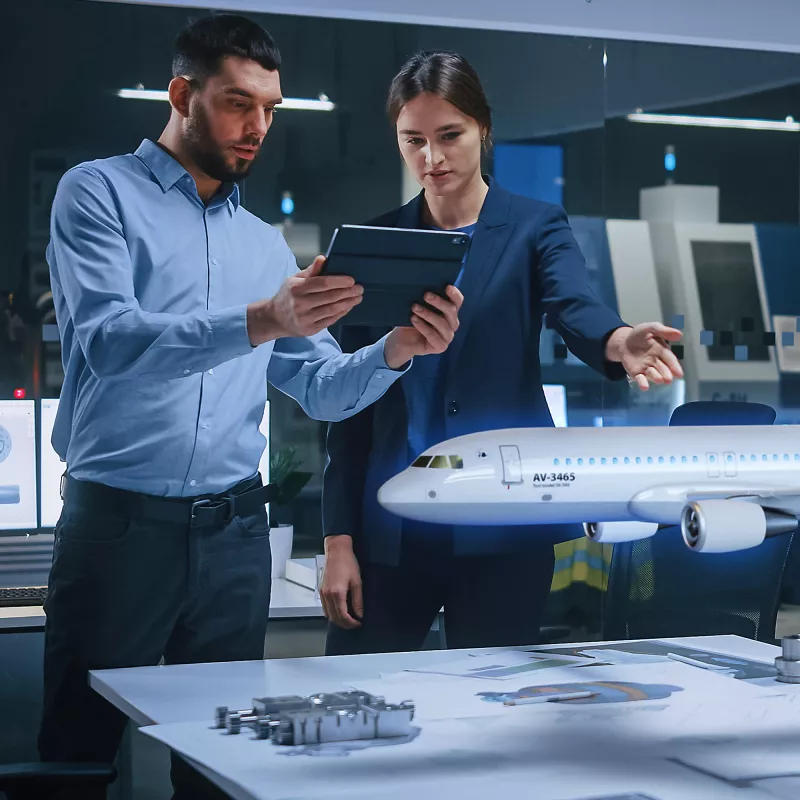 Aerospace
At Porsche Consulting, we're working with our clients to shape the future of the aerospace industry. We are experts for the whole range of different areas and work for aircraft manufacturers, airlines and airports as well as service companies and companies in the aerospace, security and defense industry.
Opportunities
Reliable, efficient and sustainable mobility
Aerospace industry – opportunities and challenges
Once the dream of a few, today flying is increasingly a part of our everyday mobility.
The associated transformation is changing the aerospace industry and requires continuous reorientation of business models and resolute implementation of strategic initiatives.

With our industry experience, we develop innovative solutions for the challenges of the aerospace industry, including market growth, environmental regulations, margin pressure and rising complexity.

Beginning with changed customer demands and new technologies, we help companies navigate the scalability of production networks, develop infrastructure solutions, or help make flight operations more efficient and sustainable.

We recognize the opportunities and make our clients "ready for takeoff".
We can help you with every facet of the aerospace industry
At Porsche Consulting, our approach is simple: We create lasting added value through effective results – from development to the implementation of strategies and achieving financial objectives.
"In the aerospace industry, the best way to tap into market opportunities in the future will be through holistic approaches and system partnerships – including across industry borders."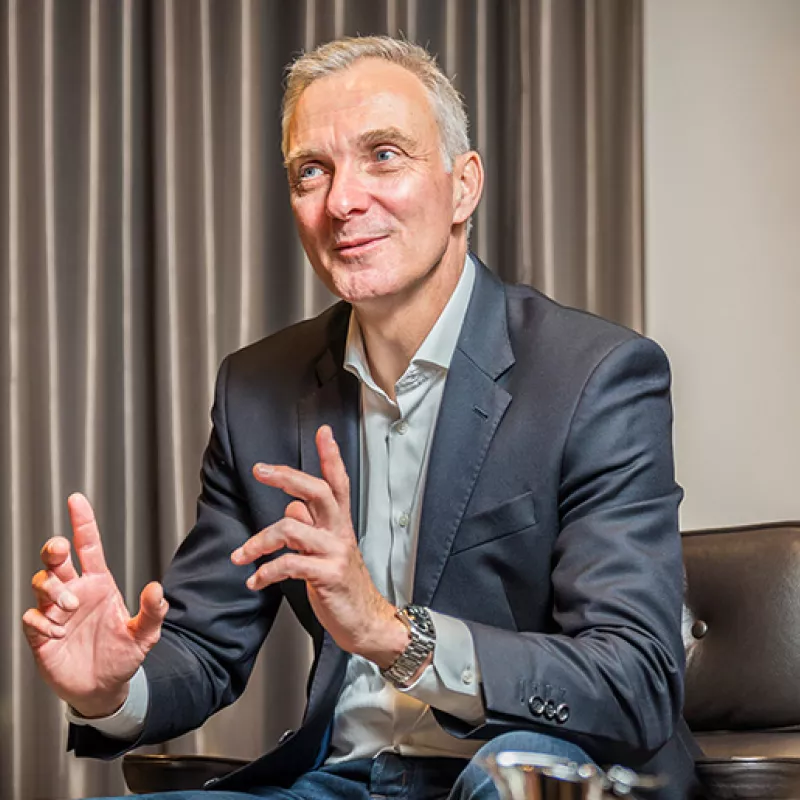 Solutions
Fit for the Future – Our Concepts for the Aerospace Industry
The Future of Aircraft Manufacturing
How can aircraft manufacturing produce stable volumes and yet also be flexible?
Aircraft manufacturers and suppliers face a variety of challenges: Sales commitments must be fulfilled and production rates adapted to market requirements. At the same time, regulations on carbon neutrality are changing and supply chains are at risk. And finally, there is the need to build low-emission aircraft and develop the associated production systems.

We analyze these challenges and develop opportunities based on them. We help companies develop and introduce modular product structures, automated production processes and digital supply chains.
Our objective: the efficient collaboration of all involved functional roles and external partners in a manner that is simultaneously sustainable for the environment and society.
Predictive Asset Management
How can assets be put to optimal use through data-based approaches?
Airlines and airports are subject to high margin pressure, yet at the same time don't use their assets (primarily aircraft and terminals) at the maximum industrial capacity.

Assets continuously report their status to us via machine data. Combined with environmental and usage data, this data enables forecasts regarding performance as well as possible errors. This makes it possible to act swiftly and avoid costly downtimes.

Clients appreciate our holistic, industrial approach, for example with maintenance and spare parts management. Based on our broad MRO expertise, we combine process knowledge with pragmatic digitization and thereby generate sustained business benefits.
Aviation Operations Management
How can companies ensure robust and efficient flight operations?
Airlines and airports have to master complex networks and systems with numerous interfaces and partners. Even small disruptions can produce major effects on system stability.

This makes it necessary to coordinate measures between all involved partners to stabilize networks and systems and minimize inconveniences for customers.

We help companies predict disruptions and effects and identify dependencies. We connect the different partners and actors through standardized processes and clear communication rules in order to stabilize the traffic network. Our system-oriented and self-learning approach enables quick system restoration with positive customer experiences.
Passenger & Customer Orientation
How can companies improve their attractiveness and customer satisfaction throughout the travel chain?
Rising passenger numbers and an ever-growing focus on sustainability issues requires a fundamental re-thinking of the design and management of the aviation sector. At the same time, new technologies are reaching maturity and threatening established sources of revenue.

To offer a forward-looking service, all players throughout the travel chain must strive to achieve customer-focused collaboration and align their strategies and operations with one another.

Our approach enables airports, airlines and their partners to implement a targeted approach to achieving customer focus and securing their profitability through attractive services.
Vertical Mobility Business Model
How can vertical mobility solutions become an attractive business model?
Air taxis and drones promise safe and fast passenger and goods transport that should not cost more than public transportation. To make this vision a reality, the industry must find solutions for different challenges.

To bring prototypes to the stage of mass-market series production, companies must thoroughly industrialize their value creation chains and ensure scalability.

Our experience from the automotive industry makes us experts in the area of scalable mobility solutions and autonomous systems. We design and implement market entry strategies with modular solutions to ensure the profitability of business models in new markets.
Industrializing Aerospace
How will the "new space" transformation be a success?
The "new space" era, characterized by the commercialization of space activities, calls decades-old industry standards into question. It relies on new technologies, products and business models in order to tap into new revenue streams at significantly lower costs.

Established companies and new entrants need to reposition themselves strategically, industrialize their operations to achieve cost-effectiveness, and build agile organizations to enable quick action.

We look at the entire industry, from satellite manufacturing to the provision of services. We develop customized corporate strategies and improve cost and sales positions throughout the entire product lifecycle.
Insights
Trends and Solutions
Contact
Consulting that works
Reach out to us. We are here to provide support in the aerospace industry.