Air Taxis: Onward and Upward
Aerial taxi start-ups have been attracting investors. Now what is needed for these business models to fly?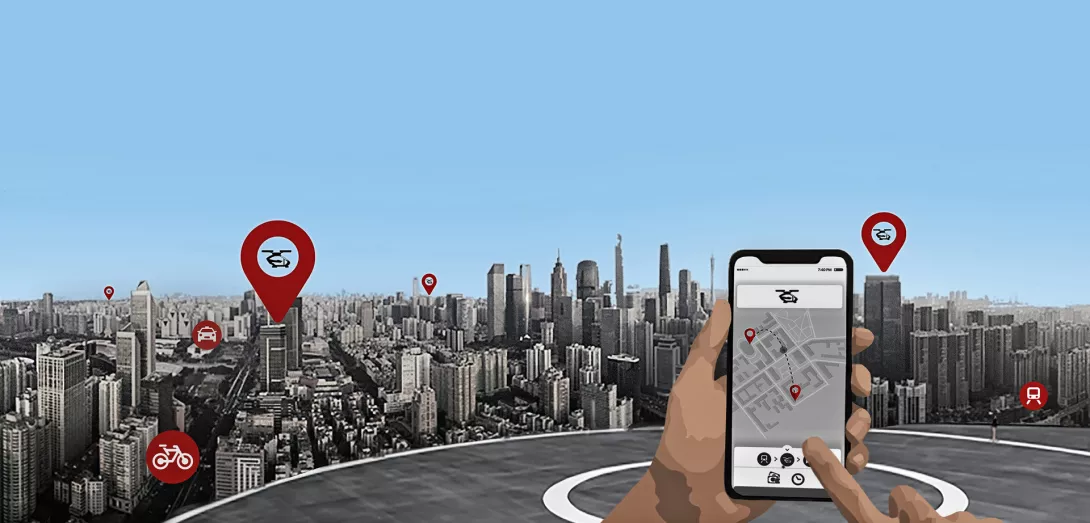 24.03.2022 | Porsche Consulting – The Magazine
Joby Aviation, Lilium, Volocopter, Archer, Vertical Aerospace, Electra.aero—the list of companies that have raised billions of dollars to make air taxis with electric drives widely available to the public as a means of transportation has lengthened continuously in 2021. Around 100 manufacturers worldwide have entered the race to present the first functioning business model. Common to all is the vision of relieving the pressure on traffic hubs. How? By making zero-emission air taxis as easy to book as regular taxis on the streets today.
The potential to establish a new and sustainable means of transportation over the next 15 years is certainly present. According to the study The Economics of Vertical Mobility by Porsche Consulting, the market for vertical mobility will be worth around 32 billion dollars by the year 2035. But this will require investing at least 20 billion dollars. In order for the first routes to be flown by the middle of this decade, the eVTOL (electric vertical takeoff and landing) aircraft makers will have to invest five to ten billion dollars in development. Further sums will need to be invested by infrastructure and service providers. Moreover, as the study notes, it is unclear whether the requisite regulatory frameworks and infrastructure will be in place by then.
"For vertical mobility to succeed, the buildup on financial markets will have to yield concrete steps by 2025," says Gregor Grandl, Senior Partner at Porsche Consulting. His conclusion: for short to medium distances of 20 or more kilometers, electric passenger drones could definitely be a relevant player. For that to happen, the entire ecosystem of hardware, infrastructure, and services needs to move swiftly from proof of concept to actual operations.
Insights
Trends & Solutions